Falcon 900/900EX and Falcon 2000/2000EX Dual Swing Aft Lavatory Door Modification
June 2023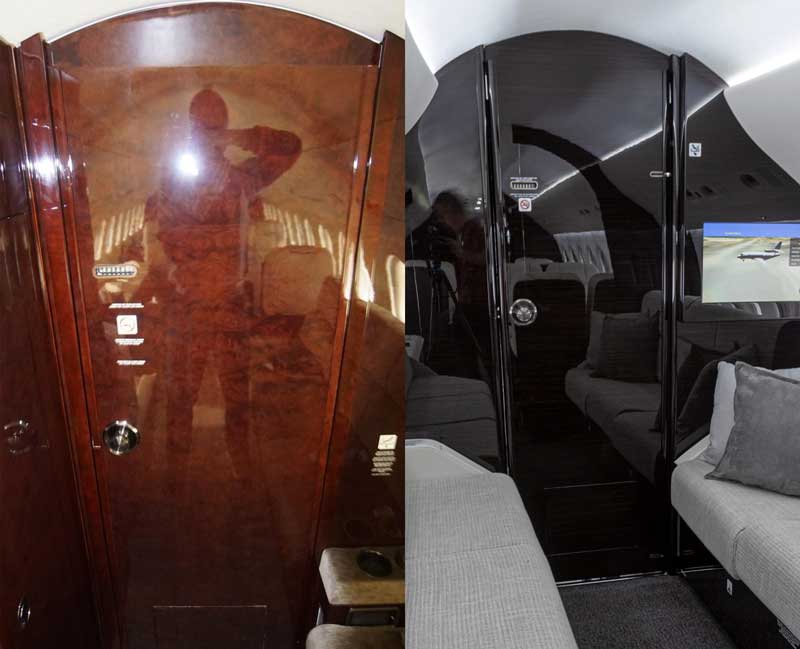 While some late-model Falcon 900/Falcon 900EX and Falcon 2000/Falcon 2000EX aircraft have dual swing aft lav (lavatory) doors installed from the factory, many older models do not. With limited available space, it can sometimes be difficult for the occupant to get out of the way to open or close the lav door.
Having an aft lav door that swings into the cabin provides greater safety in cases of emergency and more convenient access between the cabin to the baggage.
Safety
If the door only swings into the lavatory, it may be impossible to open if a passenger has a medical emergency and is blocking it from the inside.
Convenient Access
When the lavatory to baggage door is opened for access, it swings forward into the lav. In the original configuration with the cabin-to-lavatory door swinging aft, you have to step into the lav, close the door, open the baggage door, then re-open the lav door to have a passage through from the cabin to the baggage area.
A dual swing lav door that opens into the cabin solves both of these potential concerns.
In the last 10 years, Duncan Aviation performed 10 dual swing door modifications as an MRA (Major Repairs and Alterations) on 900/900EX and Falcon 2000/2000EX aircraft at Duncan Aviation's MRO locations in Battle Creek, Michigan, and Lincoln, Nebraska.
The existing aft cabin/lavatory door will be modified to swing both forward and aft while maintaining the door handle mechanism on the same existing RH/LH side. The divider and door jambs are modified to allow the dual swing function while maintaining the existing look and feel of the original configuration.