Duncan Aviation Acquires and Refurbishes Citation VII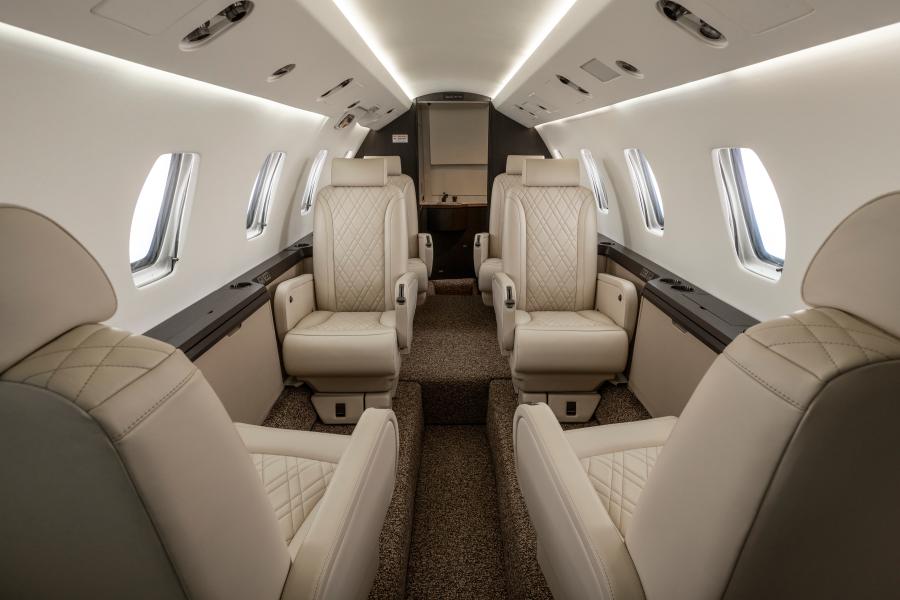 BATTLE CREEK, MICH — Duncan Aviation is excited to showcase this Citation VII that was purchased through Duncan Aviation's Aircraft Sales & Acquisition team and immediately taken to Duncan Aviation's full-service facility in Battle Creek, Michigan, to receive new paint, full interior refurbishment, Universal Insight Flight Deck install, Gogo AVANCE L3, and USB Power Ports.
The business partners who own the aircraft had been jet-card/charter users until 2020 when the Duncan Aviation Aircraft Sales & Acquisitions team helped them purchase a Citation S/II.
Leah Alexander, Aircraft Sales & Acquisitions, says that the owners had been flying a bit under 200 hours per year, but once they owned their own aircraft, that number jumped to just over 360 hours per year.
"They were certainly making good use of the aircraft, but it also meant that the engine hot sections were coming due nearly a year sooner than originally expected," says Alexander. "The timing of that maintenance event, along with realizing they would prefer a slightly roomier cabin led them to begin considering an upgrade."
Alexander explains that there is a cost involved in any aircraft transaction, so they owners weren't looking to upgrade frequently going forward. They wanted to find a cost-effective option that would be suitable for their growing business footprint as well as family trips.
"We initially looked at Citation Excels and XLSes, but by mid-2021 the market had already turned," says Alexander. "The Excel/XLS is a popular model for charter operations in particular, so with charter demand on the rise by that time, our clients were getting to be priced out of their preferred airframe option."
There are only about 1/3 the number of Citation VIIs built as Citation Excels, so it wasn't "on the radar" at first. Once the Citation Excel/XLS looked out of reach, the Duncan Aviation Aircraft Sales & Acquisitions team started casting a wider net for other suitable options.
"In the end we saw that the significantly reduced up-front capital cost for acquisition of this Citation VII gave back room in the budget for upgrades that would make it feel like a much newer aircraft, and one that the owners would feel comfortable in for years to come," explains Alexander.
New Paint – Simple but Unique
The Duncan Aviation Paint team gave this aircraft a two-tone scheme with a classic white on top and dark charcoal belly, accented by a vivid orange stripe that creates a sleek design.
Duncan Aviation Lead Designer Heather Pridemore says that the customer was looking for something classic, clean, and simple that is also unique. They also wanted to include their company colors in the paint scheme.
Duncan Aviation Senior Completions & Modifications Sales Rep Suzanne Hawes says that the new exterior paint gives the aircraft clean and elegant lines.
"Heather did such a wonderful job coordinating with multiple clients to meet and exceed expectations," Hawes says.
Full Interior Refurbishment
The owners wanted a warm interior that was updated, clean, and modern.
Pridemore says the wood is all wood grain laminate and the countertops in the lav and galley are a modern stone look laminate as well. The seats are a custom design with quilting, accent stitching, and a new modern-style headrest.
"There are not many Citations that have quilting in the seats, so I was able to be super creative in coming up with a modern design," says Pridemore. "The owners loved the look of quilted seats with accent stitching."
Hawes says this was a great transformation that turned a dated interior into a clean and modern environment that will withstand the test of time.
Feedback
Pridemore says this is the most beautiful Citation VII out there.
"It's just so fresh and updated," she says. "We are all so proud of the completed work."
The owner of the aircraft had this to say: "We were extremely impressed with the work, and more importantly, we are grateful we chose Duncan Aviation for this refurbishment. The project was simply too complex to go anywhere else."
About Duncan Aviation
Duncan Aviation is an aircraft service provider supporting the aviation needs of business aircraft operators, government agencies, and other aircraft service providers. Services include major and minor airframe inspections, engine maintenance, major retrofits for cabin and cockpit avionics systems, full paint and interior services, engineering and certification services, fabrication and manufacturing services, and preowned aircraft sales and acquisitions. Duncan Aviation also has international aircraft components solutions experts available 24/7/365 at +1 402.475.4125 who can handle any aircraft system problem with immediate exchanges, rotables, loaners or avionics/instrument/accessory repairs and overhauls. Complete service facilities are located in Battle Creek, Michigan; Lincoln, Nebraska; and Provo, Utah. We also have dozens of other facilities strategically located throughout the United States to provide customers with scheduled regional support and the quickest response possible to avionics, engine and airframe Aircraft On Ground (AOG) situations.
For more information about any of Duncan Aviation's services, call +1 402.475.2611 or visit https://www.DuncanAviation.aero/services