Duncan Aviation Builds Tech Rep Expertise In Provo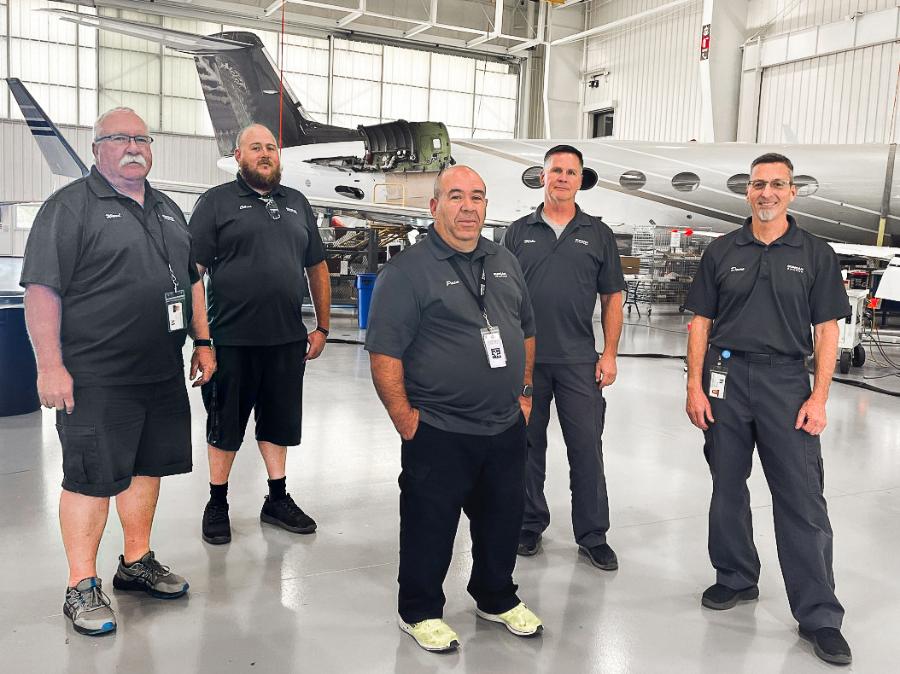 LINCOLN, NEB. — Duncan Aviation's full-service MRO (maintenance, repair, and overhaul) facility in Provo, Utah, has grown its technical representative expertise to include five.
Duncan Aviation Technical Representatives, or Tech Reps, are some of the industry's most experienced and highly respected experts. They use their talents and knowledge to advise, teach, and support customers, OEMs, and internal Duncan Aviation technicians. You would be hard-pressed to find another group of aviation professionals more experienced and more willing to share knowledge with others.
Below are the Duncan Aviation Tech Reps located in Provo.
Dassault Falcon Tech Rep
In 1994, Dave Thompson joined Duncan Aviation in Lincoln, NE, as a Technician working on the Falcon airframe. In October 2018, he relocated to Duncan Aviation's Provo, Utah, MRO to establish and build the first dedicated Falcon airframe team at this location. Thompson identified and acquired the necessary tooling and ground support equipment to support all models and workscopes in the Falcon product line. He became a Tech Rep in 2020.
Contact Dave Thompson at Dave.Thompson@DuncanAviation.com or +1 402.429.3642
Bombardier Tech Rep
Chris Halbert comes to Duncan Aviation with 13 years of aviation experience. He is factory-trained in the Challenger 300, Challenger 350, Challenger 604, Challenger 605, Global Express airframes, CF34, and Rolls Royce BR710-A2-20 engines. Before joining Duncan Aviation, he held Team Leader and Lead Technician positions with Bombardier and West Star Aviation.
Duncan Aviation is a Bombardier Authorized Service Facility (ASF) in Provo, Utah, with authorizations for Learjet 40, Learjet 45, Learjet 70, and Learjet 75 platforms, Bombardier Challenger 300, Challenger 600, and Challenger 850 series aircraft; and Global Express, Global 5000, Global 5500, Global 6000 and Global 6500 platforms.
Contact Chris Halbert at Chris.Halbert@DuncanAviation.com or +1 970.250.7218
Gulfstream Tech Rep
Paco Velez has 30 years of aviation maintenance and troubleshooting experience. He has been hands-on as a senior aircraft technician, Team Leader, field and airborne Senior Technician, and customer liaison on Gulfstream large-cabin aircraft models from the GII to Gulfstream G600. Before joining Duncan Aviation, Velez worked for Gulfstream.
Contact Paco Velez at Paco.Velez@DuncanAviation.com or +1 385.985.6397
Airframe Structures Tech Rep
Ward Cranor joined Duncan Aviation in 2000 as an Airframe Structures Technician in Lincoln, NE. He relocated to Provo in 2010 as one of the original 14 Duncan Aviation team members to build up that location. As a Structures Tech Rep, Cranor works directly with airframe OEMs and engineering to find solutions while providing support and advanced troubleshooting to Duncan Aviation airframe and structures technicians.
Contact Ward Cranor at Ward.Cranor@DuncanAviation.com or +1 385.219.1308
Avionics Install Tech Rep
Mike Meyer joined Duncan Aviation in 2010 as an Avionics Team Leader. He has 43-years of avionics experience installing major avionics retrofits, glass cockpits, multiple versions of CMS, and major safety systems like TCAS, EGPWS, and FMSes. He holds ASEL and Commercial Rotorcraft Pilot's licenses. Mike became an Avionics Install Tech Rep in 2020.
Contact Mike Meyer: Mike.Meyer@DuncanAviation.com or +1 801.360.2694
"The impact of the technical support provided by our Tech Reps to our customers, sales team, and technicians throughout the Duncan Aviation network is priceless," says Cobi Lane, VP of Production Operations, PVU. "Each is a leader in their area of expertise, who willingly assists others through highly complicated scenarios. That is the cornerstone of servant leadership. That puts them at the tip of the spear. "
Duncan Aviation has 31 Tech Reps at all locations with expertise in Challenger, Citation, Embraer, Falcon, Global, Gulfstream, Hawker, King Air, and Learjet aircraft. They are experts in accessories, airframe, avionics, components, instruments, interiors, engines, and structures.
About Duncan Aviation
Duncan Aviation is an aircraft service provider supporting the aviation needs of business aircraft operators, government agencies, and other aircraft service providers. Services include major and minor airframe inspections, engine maintenance, major retrofits for cabin and cockpit avionics systems, full paint and interior services, engineering and certification services, fabrication and manufacturing services, and preowned aircraft sales and acquisitions. Duncan Aviation also has international aircraft components solutions experts available 24/7/365 at +1 402.475.4125 who can handle any aircraft system problem with immediate exchanges, rotables, loaners or avionics/instrument/accessory repairs and overhauls. Complete service facilities are located in Battle Creek, Michigan; Lincoln, Nebraska; and Provo, Utah. We also have dozens of other facilities strategically located throughout the United States to provide customers with scheduled regional support and the quickest response possible to avionics, engine and airframe Aircraft On Ground (AOG) situations.
For more information about any of Duncan Aviation's services, call +1 402.475.2611 or visit https://www.DuncanAviation.aero/services