Duncan Aviation Creates STC Switch Panels For Low Serial CL-300s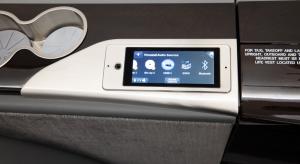 LINCOLN, NE — Duncan Aviation is pleased to announce it has created a Parts Manufacturer Approval (PMA) part for the bezel surrounding the odd-shaped cutout left when replacing the obsolete Audio International switch panel. In the past, upgrading to a newer Collins Aerospace Venue™ Cabin Management System (CMS) required making modifications to the drinkrails because of that odd, dog-ear-shaped cutout, which added to the expense of the replacement.
The Duncan Aviation PMAed part creates a new bezel to surround the contemporary, touchscreen panel from the Venue CMS when owner/operators opt to replace the obsolete switch panel found in CL-300 aircraft with low serial numbers.
"Our Interior teams can paint, plate, or hydrodip the panels to make the new panels flow with the aesthetics of the interior design," says Duncan Aviation Avionics Sales Rep Scott Kruce. "This is an excellent solution for our customers with low serial number CL-300s who have an obsolete Audio International CMS and want to upgrade to the Collins Venue CMS with its touchscreen control panels while avoiding the major modifications to the woodwork in the drinkrails."
Duncan Aviation's Engineering team and its Duncan Manufacturing Solutions (DMS) team collaborated to create not just the STC but also a part that will house the new Collins Aerospace touchscreen panel. The STC covers the part necessary to fill the cutout and Duncan Aviation will provide whatever finish the customer envisions.
Duncan Aviation has replaced two of the old switch panels and bezels to date. The STC and parts are now available, and the parts, manufactured by DMS, are available with the Collins Aerospace Service Bulletin (CSBRS-210054-01 (Rev. A).
About Duncan Aviation
Duncan Aviation is an aircraft service provider supporting the aviation needs of business aircraft operators, government agencies, and other aircraft service providers. Services include major and minor airframe inspections, engine maintenance, major retrofits for cabin and cockpit avionics systems, full paint and interior services, engineering and certification services, fabrication and manufacturing services, and preowned aircraft sales and acquisitions. Duncan Aviation also has international aircraft components solutions experts available 24/7/365 at +1 402.475.4125 who can handle any aircraft system problem with immediate exchanges, rotables, loaners or avionics/instrument/accessory repairs and overhauls. Complete service facilities are located in Battle Creek, Michigan; Lincoln, Nebraska; and Provo, Utah. We also have dozens of other facilities strategically located throughout the United States to provide customers with scheduled regional support and the quickest response possible to avionics, engine and airframe Aircraft On Ground (AOG) situations.
For more information about any of Duncan Aviation's services, call +1 402.475.2611 or visit https://www.DuncanAviation.aero/services