Duncan Aviation Has Installed More Than 550 Gogo AVANCE Connectivity Systems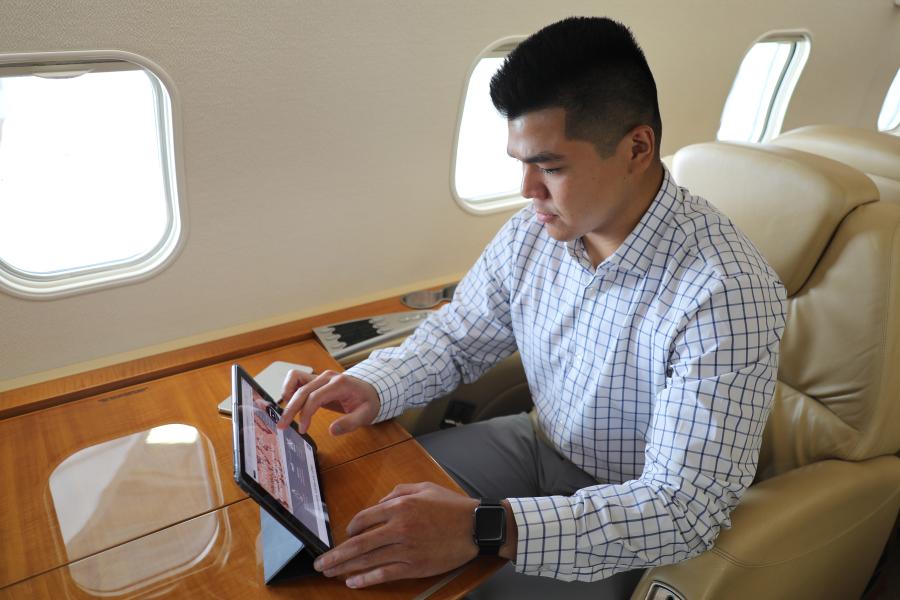 LINCOLN, NEB. — Duncan Aviation is pleased to announce that the company recently completed its 550th installation of Gogo Business Aviation's (NASDAQ: GOGO) AVANCE L3 and L5 in-flight connectivity systems in a wide range of popular business aviation aircraft. In addition to the 550 installations completed by technicians at Duncan Aviation's three full-service MROs and 26 Duncan Aviation Satellites, design data from the company's 14 AVANCE Supplemental Type Certificates (STCs) was used by other installers to provide another 250 operators with a Gogo AVANCE system.
"Duncan Aviation has had a long and productive relationship with Gogo Business Aviation, which provides a significant benefit to our mutual customers," said Duncan Aviation's Sales Manager of Modifications and Completions in Lincoln, Nebraska, Nate Klenke. "Because of our confidence in the performance and reliability of the Gogo AVANCE L5 and L3 systems, Duncan Aviation's Engineering & Certification Services teams have invested and continue to invest in the development of numerous STCs. We are pleased to have installed these connectivity solutions in so many customer aircraft."
Gogo AVANCE L5 is a complete Wi-Fi system that delivers a 4G experience, letting cabin passengers take advantage of greater network capabilities with speeds up to three times faster than an L3. The L5 offers enhanced connectivity applications, which means passengers will enjoy an improved online user experience while in flight with the ability to stream audio and video and send email with large attachments.
The AVANCE L3 is designed for airframes of all types and sizes, but is ideal for email and lite internet browsing. The system is scalable with several configurations available as well as a state-of-the-art modem and router.
The AVANCE L5 and L3 operate on Gogo's ATG low-latency network with coverage in the contiguous United States and portions of Canada and Alaska. The Gogo AVANCE platform gives those on board the ability to text and make phone calls and comes with an integrated inflight entertainment (IFE) media server – Gogo Vision 360 – featuring streaming movies and television programs to the personal devices of those onboard.
Gogo's licensed air-to-ground network is expected to be transitioned to LTE technology by early 2026. Aircraft with Gogo's legacy ATG systems (ATG 1000, 2000, 4000, 5000) that upgrade to AVANCE will see an immediate improvement in performance with an additional boost when the network transition to LTE is complete.
"The fact that Duncan Aviation has installed 550 Gogo systems on so many different airframes over the years says everything about our partnership," said David Salvador, Gogo's vice president of aftermarket sales. "We celebrate the more than 25 years we have been working together with the Duncan Aviation team connecting the business aviation community."
Duncan Aviation's nine AVANCE L5 STCs cover the Wi-Fi certification, and full equipment and antenna installation required to provide in-flight connectivity. All of the STCs that the Duncan Aviation teams have completed for Gogo Business Aviation system are available throughout the United States and can be installed at any of Duncan Aviation's three full-service facilities and at many of its Satellite Shops and workaways. Additionally, Duncan Aviation has sought and received approval from Transport Canada Civil Aviation (TCCA) for the STCs on the following makes/models:
GLEX, GL5000, GLXRS, GL5500, GL6000, GL6500
CL-650, CL-605, CL-604, CL-601-3A, CL-601-3R
CL300, CL350
Gulfstream GIV, G300, G400
Gulfstream GIV-X, G350, G450
Gulfstream Aerospace LP Galaxy, Gulfstream 200
Falcon 900
Falcon 900EX (EX, EASy, LX, DX)
Falcon 2000
Falcon 2000EX (EX, EASy, LX, DX)
Textron Aviation Inc. 680, 680+
Textron Aviation Inc. 750
Textron Aviation Inc. 560XL, 560XLS, 560XLS+
Duncan Aviation's four AVANCE L3 STCs are available for the following makes/models:
Gulfstream GIV and GIV-X
CL 300 and 350
CL-650, CL-605, CL-604, CL-601-3A and CL-601-3R
Hawker 800XP
In addition to the extensive library of STCs developed by Duncan Aviation for Gogo equipment, STC development is underway for existing classic ATG-equipped Falcon 2000/2000EX aircraft to upgrade to AVANCE L3. The STC is expected to be completed later this year.
Duncan Aviation is considering additional models for STC development to assist operators with the transition from Gogo's legacy ATG systems to its industry-leading AVANCE platform, to be performed at one of Duncan Aviation's three full-service facilities and 26 Satellites.
For more information, visit Duncan Aviation during this year's NBAA convention from October 17-19, in Las Vegas, Nevada.
About Duncan Aviation
Duncan Aviation is an aircraft service provider supporting the aviation needs of business aircraft operators, government agencies, and other aircraft service providers. Services include major and minor airframe inspections, engine maintenance, major retrofits for cabin and cockpit avionics systems, full paint and interior services, engineering and certification services, fabrication and manufacturing services, and preowned aircraft sales and acquisitions. Duncan Aviation also has international aircraft components solutions experts available 24/7/365 at +1 402.475.4125 who can handle any aircraft system problem with immediate exchanges, rotables, loaners or avionics/instrument/accessory repairs and overhauls. Complete service facilities are located in Battle Creek, Michigan; Lincoln, Nebraska; and Provo, Utah. We also have dozens of other facilities strategically located throughout the United States to provide customers with scheduled regional support and the quickest response possible to avionics, engine and airframe Aircraft On Ground (AOG) situations.
For more information about any of Duncan Aviation's services, call +1 402.475.2611 or visit https://www.DuncanAviation.aero/services