Duncan Aviation Names Meghan Knott New Aircraft Sales & Acquisitions Market Research Analyst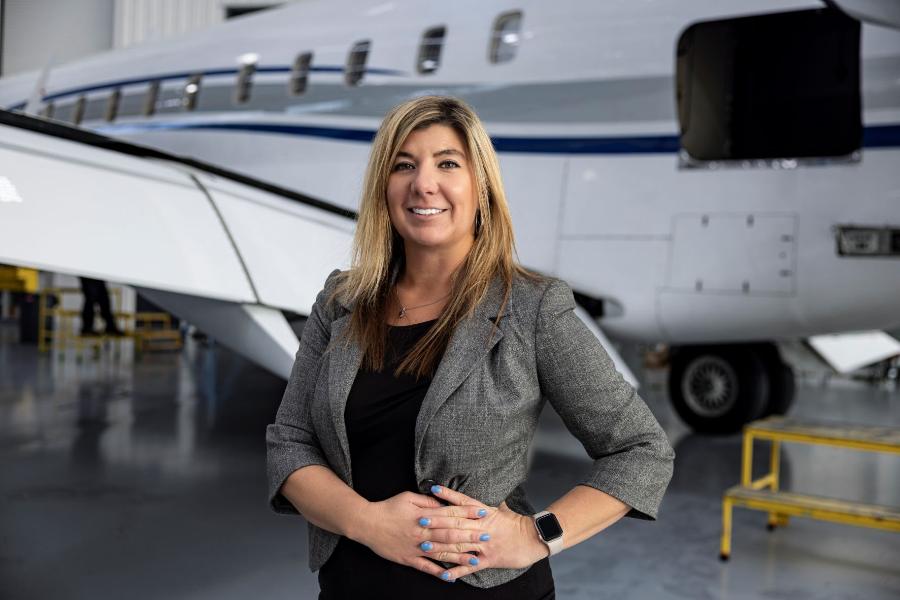 LINCOLN, NEB. — Duncan Aviation is excited to announce that Meghan Knott has joined the company's Aircraft Sales & Acquisitions team as a Market Research Analyst at its full-service MRO facility in Lincoln, Nebraska. In this role, Knott will provide support to the Aircraft Sales & Acquisitions team by focusing on collecting expedient and accurate data, analytics, and insights on current aircraft markets for their clientele.
Because the pre-owned business jet market is extremely complex and competitive, and information is constantly changing, Knott will join Aircraft Sales & Acquisitions Market Research Team Leader Rebekah Williams in monitoring the market and providing accurate and efficient information to Duncan Aviation's Aircraft Sales & Acquisitions team and their clients to ensure they achieve results in line with the best interests and expectations of their clientele.
Knott has spent the past six years in aviation, and she is currently enrolled in Middle Georgia State University's School of Aviation, working to receive her Bachelor's Degree in Aviation Science Management. Knott has experience with Part 91, 135, and 145 as a maintenance administrator where she oversaw a charter fleet managing the maintenance, inspections, and records of 75 aircraft in addition to her experience as a project manager over a Gulfstream fleet.
"I started off just typing up maintenance paperwork and scheduling outside maintenance work and I fell in love with aviation and all it entails," said Knott. "There is so much more behind the scenes, and I thrive getting lost in it all."
Knott said when she thinks of Duncan Aviation, she thinks of respect and integrity.
"I want to be associated with an organization that holds itself to high standards and upstanding core values," she explained. "Based on my perception of, and experience with Duncan Aviation to date, I'm so excited to be joining a team and culture that does just that!"
Ryan Huss, Vice President of Sales and Marketing, said that Knott brings great energy to the team along with a strong background and understanding of the aviation market.
"She will be a key part of the team, keeping our team up-to-date on the most recent trends and pricing, as well as supporting the research for individual aircraft searches and transactions," Huss said. "We are fortunate to find someone of Meghan's character and experience to be a part of our team. She has fit in seamlessly with the team while she learns her new role."
Huss went on to say that Knott will help to get information out quicker and with high accuracy to their clients.
"Pairing Knott with Williams has created one of the best research teams in the market," Huss explained.
Pulling from her background in logbook research, maintaining a charter fleet, and handling multiple projects from piston aircraft to Gulfstreams, she is knowledgeable and proficient in aircraft makes and models, engine programs, and equipment.
"We are in the business of information and information is constantly in flux," said Knott. "We are an extension of and advocate for our clients by representing the Aircraft Sales & Acquisition team in the marketplace through market research. We have a broad network of established industry relationships, connections to extensive technical expertise, and we invest in a myriad of resources dedicated to supporting the most informed decisions when dealing with high value assets; whether buying or selling."
Knott went on to explain she is looking forward to expanding her skills in aircraft sales and acquisitions, and developing more lasting relationships on the sales side of the aviation world.
In her free time, she loves to travel, and stays active in the community by volunteering as much as time allows. She is also very involved in her three son's lives.
About Duncan Aviation
Duncan Aviation is an aircraft service provider supporting the aviation needs of business aircraft operators, government agencies, and other aircraft service providers. Services include major and minor airframe inspections, engine maintenance, major retrofits for cabin and cockpit avionics systems, full paint and interior services, engineering and certification services, fabrication and manufacturing services, and preowned aircraft sales and acquisitions. Duncan Aviation also has international aircraft components solutions experts available 24/7/365 at +1 402.475.4125 who can handle any aircraft system problem with immediate exchanges, rotables, loaners or avionics/instrument/accessory repairs and overhauls. Complete service facilities are located in Battle Creek, Michigan; Lincoln, Nebraska; and Provo, Utah. We also have dozens of other facilities strategically located throughout the United States to provide customers with scheduled regional support and the quickest response possible to avionics, engine and airframe Aircraft On Ground (AOG) situations.
For more information about any of Duncan Aviation's services, call +1 402.475.2611 or visit https://www.DuncanAviation.aero/services