Duncan Aviation President Aaron Hilkemann Announces Mid-Year Semi-Retirement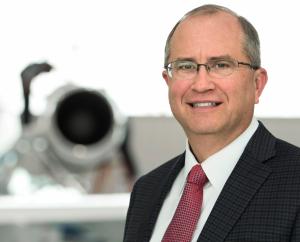 LINCOLN, NEB — Duncan Aviation announced today that Aaron Hilkemann, President of Duncan Aviation, will retire from the President position on July 1 of this year and move to Chief Executive Officer and Chairman of the Board of Advisors, a newly created part-time position. He will be succeeded by Jeff Lake, the current Chief Operating Officer for Duncan Aviation's Lincoln, Nebraska, facility.
Hilkemann has been with Duncan Aviation since 1996 when he joined the company as Executive Vice President and Chief Operating Officer and was appointed President in 1997. Prior to joining Duncan Aviation, Hilkemann worked in banking and finance. He is a past Chairman and member of the Board of Directors of GAMA (General Aviation Manufacturers Association) and has served as Past Chairman of the AMAC (Associate Member Advisory Council) of the NBAA and the NBAA Board of Directors.
"Aaron has been a transformative leader for Duncan Aviation and leaves a remarkable legacy," says Todd Duncan, Chairman of Duncan Aviation. "His servant-leadership style and integrity instilled a formal, consistent leadership structure that allowed the company's culture to flourish. He increased professionalism and added a decision-making style that was strategic and compassionate. He never altered from the belief my family has that the people of Duncan Aviation are our strongest asset; instead, his style complemented it perfectly.
"In some organizations, change at the top like this would bring stress and uncertainty for the organization and its team members," Duncan continues. "That is not the case with Duncan Aviation, though, because through the years, the senior management team formed by Aaron has developed a solid and agile succession plan that was supported by our external Board of Advisors. This plan includes semi-retirement positions that let Duncan Aviation tap into the knowledge and experience of its long-term senior leaders while transitioning to new leadership. Being freed from the day-to-day management of the company will allow Aaron to build on to his legacy and concentrate on high-level opportunities, nurture industry and customer relationships, mentor team members, and take the time to travel and enjoy his family and personal hobbies."
Lake joined Duncan Aviation in 1993 as Controller and soon became Vice President of Finance. He was promoted to Chief Financial Officer in 1998 and assumed his current role of Chief Operating Officer for Duncan Aviation's Lincoln facility in 2008. Lake has also been active in both aviation and non-aviation boards/committees including United Way, CASA for Children, GAMA Maintenance Committee, and the Boeing Customer Advisory Board.
"During my career here, I was provided a wonderful opportunity to build the Senior Management Team, and I believe they are the finest team of professionals in the industry," Hilkemann says. "With Jeff's experience on this team, I am confident that Duncan Aviation will continue to provide excellent services for business aircraft operators and be a great place to work for our team members. I look forward to a meaningful role as CEO that will continue to assist and guide the organization as needed while spending time at our various facilities and industry events. Duncan Aviation is truly a special place with a reputation that is unmatched in the industry. I don't see that changing."
About Duncan Aviation
Duncan Aviation is an aircraft service provider supporting the aviation needs of business aircraft operators, government agencies, and other aircraft service providers. Services include major and minor airframe inspections, engine maintenance, major retrofits for cabin and cockpit avionics systems, full paint and interior services, engineering and certification services, fabrication and manufacturing services, and preowned aircraft sales and acquisitions. Duncan Aviation also has international aircraft components solutions experts available 24/7/365 at +1 402.475.4125 who can handle any aircraft system problem with immediate exchanges, rotables, loaners or avionics/instrument/accessory repairs and overhauls. Complete service facilities are located in Battle Creek, Michigan; Lincoln, Nebraska; and Provo, Utah. We also have dozens of other facilities strategically located throughout the United States to provide customers with scheduled regional support and the quickest response possible to avionics, engine and airframe Aircraft On Ground (AOG) situations.
For more information about any of Duncan Aviation's services, call +1 402.475.2611 or visit www.DuncanAviation.aero