Duncan Aviation Publishes Updated Cabin Management System Straight Talk Book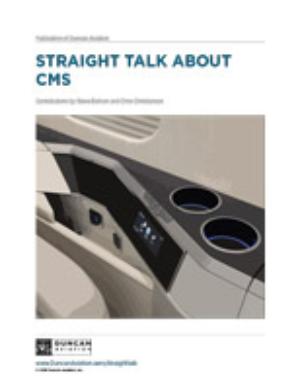 LINCOLN, NEB. — Duncan Aviation is as guilty as the next MRO when it comes to throwing around acronyms like CMS, HD, and HDR, which stand for, respectively, Cabin Management System, High Definition, High Dynamic Range. So Duncan Aviation publishes a series called Straight Talk, which includes books, webinars, and podcasts, that are designed to keep the business aviation industry well-informed with regard to cutting-edge technologies and the acronyms that describe them.
Recently, a team of avionics sales professionals at Duncan Aviation updated the information in the CMS Straight Talk Book. The book introduces readers to CMSes, or Cabin Management Systems, which control all of the other powered devices in a cabin, such as lighting, shades, audio/visual sources, and climate equipment. Through the CMS, passengers in the cabin can also control the in-flight entertainment, such as what they watch on the bulkhead-mounted High-Definition (HD) television, the volume of the speakers, or what content is streaming from a media source.
"In this book, we take a close look at the specific cabin and control options available with a new or upgraded CMS," says Senior Avionics Sales Rep Steve Elofson. "Whether interest stems from obsolescence issues or from the desire to take advantage of recent advancements in cabin technologies, we hope our customers will use this book as a guide to upgrading, reconfiguring, or replacing their own cabin management systems."
Obsolete, non-supported CMS equipment is common in the average business aircraft today due to the rapid technology changes in the last couple of decades. Additionally, if you're planning to sell, potential buyers may look at that outdated equipment in the cabin and wonder, "What else is outdated on this aircraft?"
About Duncan Aviation
Duncan Aviation is an aircraft service provider supporting the aviation needs of business aircraft operators, government agencies, and other aircraft service providers. Services include major and minor airframe inspections, engine maintenance, major retrofits for cabin and cockpit avionics systems, full paint and interior services, engineering and certification services, fabrication and manufacturing services, and preowned aircraft sales and acquisitions. Duncan Aviation also has international aircraft components solutions experts available 24/7/365 at +1 402.475.4125 who can handle any aircraft system problem with immediate exchanges, rotables, loaners or avionics/instrument/accessory repairs and overhauls. Complete service facilities are located in Battle Creek, Michigan; Lincoln, Nebraska; and Provo, Utah. We also have dozens of other facilities strategically located throughout the United States to provide customers with scheduled regional support and the quickest response possible to avionics, engine and airframe Aircraft On Ground (AOG) situations.
For more information about any of Duncan Aviation's services, call +1 402.475.2611 or visit https://www.DuncanAviation.aero/services