Duncan Aviation Publishes Updated DATALINK Straight Talk Book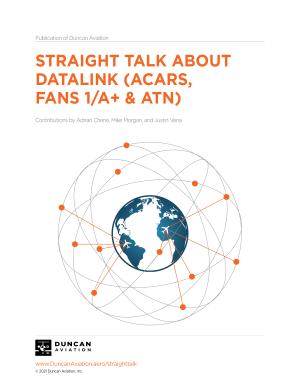 LINCOLN, NEB. — Duncan Aviation knows the importance and value of sharing our knowledge with our customers who share our passion for flying. To ensure Duncan Aviation's customers are well-informed when it comes to the Federal Aviation Administration's (FAA's) NextGen mandates and guidelines, several of the company's avionics experts have updated our Straight Talk book on the NextGen initiative for Datalink. Datalink is a broad term, encompassing numerous types of digital systems that facilitate communications between Air Traffic Control and pilots.
Current datalink systems available are Future Air Navigation Systems (FANS), Aircraft Communications, Addressing, and Reporting System (ACARS), Aeronautical Telecommunications Network-Baseline 1 (ATN-B1) and Aeronautical Telecommunications Network-Baseline 2 (ATN-B2).
This book explains all four types of datalink communications, with particular focus on FANS, which is currently mandated in the North Atlantic Tracks (NAT) for all aircraft operating between FL290 and FL410.
Download a copy of Duncan Aviation's Straight Talk About Datalink book here: (www.duncanaviation.aero/straight-talk/datalink).
In the last few years, Duncan Aviation has added Straight Talk webinars and podcasts to its series of popular Straight Talk books. Stop by the Duncan Aviation Straight Talk webpage (DuncanAviation.aero/resources/straight-talk) to see more than a dozen webinars on topics including
WAAS/LPV-An FMS Upgrade That Pays For Itself
COVID-19 & Ionization Systems
User's Guide To Data Comm
Navigating Through LASEREF II/III Obsolescence
Quality Cabinet Finishes & Graphic Options
and many others
For information about which Datalink options are available for your aircraft and to schedule time to install a Datalink system, contact one of Duncan Aviation's knowledgeable Avionics Sales Representatives (https://duncanaviation.aero/services/avionics-installation/contacts).
About Duncan Aviation
Duncan Aviation is an aircraft service provider supporting the aviation needs of business aircraft operators, government agencies, and other aircraft service providers. Services include major and minor airframe inspections, engine maintenance, major retrofits for cabin and cockpit avionics systems, full paint and interior services, engineering and certification services, fabrication and manufacturing services, and preowned aircraft sales and acquisitions. Duncan Aviation also has international aircraft components solutions experts available 24/7/365 at +1 402.475.4125 who can handle any aircraft system problem with immediate exchanges, rotables, loaners or avionics/instrument/accessory repairs and overhauls. Complete service facilities are located in Battle Creek, Michigan; Lincoln, Nebraska; and Provo, Utah. We also have dozens of other facilities strategically located throughout the United States to provide customers with scheduled regional support and the quickest response possible to avionics, engine and airframe Aircraft On Ground (AOG) situations.
For more information about any of Duncan Aviation's services, call +1 402.475.2611 or visit https://www.DuncanAviation.aero/services