Duncan Aviation Refurbishes Bus for Foster Care Closet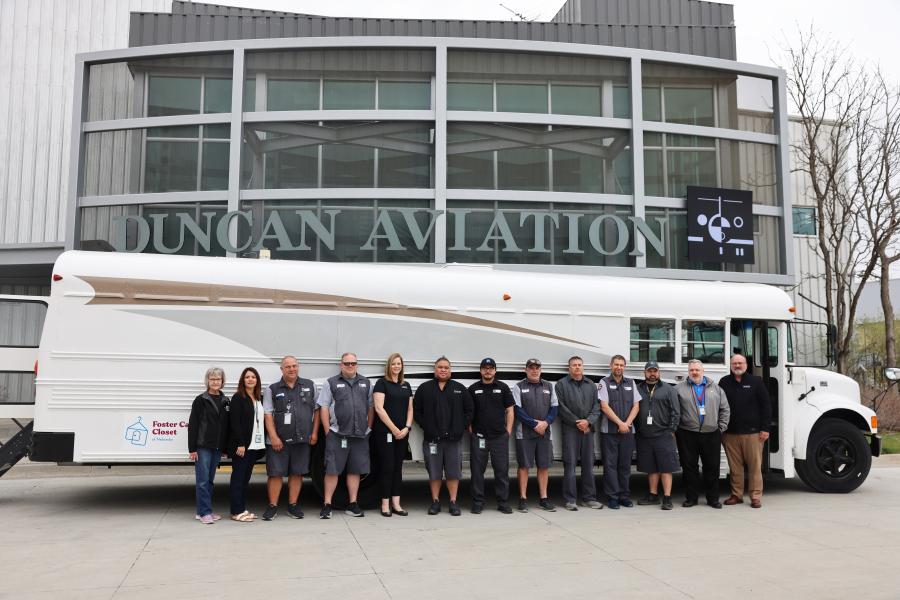 LINCOLN, NEB. — On Thursday, April 20, Duncan Aviation delivered a special project that will benefit foster children throughout the state of Nebraska. Dozens of team members have donated their time and expertise to refurbishing an old school bus and converting it into a clothing store on wheels. The bus houses seasonal clothing so children and teens can look around and select what they want.
Children and teens from broken homes throughout the state will now be able to try on and get three outfits each season for free as the Foster Care Closet bus visits them in their communities.
When Foster Care Closet Executive Director Leigh Esau saw the completed bus for the first time, she was overcome with emotion. She was overwhelmed by how seriously the Duncan Aviation team had taken the project and given it their absolute best.
"It was amazing! When you're passionate about something, and you see other people who want to help you expand your passion, it's really beyond expression," Esau said.
One of Duncan Aviation's core values is to support our communities, and toward that end, the company launched Duncan Aviation Family Trust many years ago to help fund scholarships, projects, and other needs throughout the communities in which the company's team members live. The Duncan Aviation Family Trust, various team members, and Soft Landings, a women's group at Duncan Aviation, donated funds for the Foster Care Closet Bus project.
Several years ago, Price Item Technical Specialist Jason Duhs was asked by a neighbor if he thought Duncan Aviation could help. "There are people in the Lincoln community who know we do incredible things with aircraft, and they wondered if we could do the same thing to a vehicle with wheels," says Duhs.
Duncan Aviation's Vehicle Maintenance department assessed the condition of the engine in the bus and deemed it roadworthy, and Duhs arranged for hangar space for the ongoing project. At the time, a Duncan Aviation engineer and a designer, working with Foster Care Closet's Esau, drew up specifications for an interior design and exterior paint scheme.
Various Finish Shop team members donated their evenings and weekends removing seats and windows. They installed sheet metal in place of the windows so kids trying on clothes would have privacy. Multiple shops pitched in and installed new steps and a new floor. Leather was donated, and team members from Upholstery applied a Duncan Aviation logo and added sheepskin covering so the driver's seat now looks like a pilot's seat. Team members from Avionics Install wired the interior for lights and audio speakers.
The Paint shop painted the exterior of the bus, and the Interior shop spruced up the interior so it looks brand new again.
Now, fitted with a new rear-view camera and furnished with a hydrodipped pegboard on which to hang clothes, the Foster Care Closet bus is ready to head into communities throughout Nebraska.
"Our project was in the works for more than four years, and now the Foster Care Closet bus can start serving the children and teens in foster care in Nebraska," says Sales Rep for Government Programs Tracy Bohaboj. "We couldn't have done this without the generous help and support of the dozens of Duncan Aviation team members who helped in countless ways."
Knowing now that the bus can begin to fulfill the mission for which it was designed, Esau continued, "It's exciting. It's been very exciting to see our vision come to fruition, and now, well, I'm trying not to cry."
About Duncan Aviation
Duncan Aviation is an aircraft service provider supporting the aviation needs of business aircraft operators, government agencies, and other aircraft service providers. Services include major and minor airframe inspections, engine maintenance, major retrofits for cabin and cockpit avionics systems, full paint and interior services, engineering and certification services, fabrication and manufacturing services, and preowned aircraft sales and acquisitions. Duncan Aviation also has international aircraft components solutions experts available 24/7/365 at +1 402.475.4125 who can handle any aircraft system problem with immediate exchanges, rotables, loaners or avionics/instrument/accessory repairs and overhauls. Complete service facilities are located in Battle Creek, Michigan; Lincoln, Nebraska; and Provo, Utah. We also have dozens of other facilities strategically located throughout the United States to provide customers with scheduled regional support and the quickest response possible to avionics, engine and airframe Aircraft On Ground (AOG) situations.
For more information about any of Duncan Aviation's services, call +1 402.475.2611 or visit https://www.DuncanAviation.aero/services