Duncan Aviation's Interior Shop Breathes New Life Into Reliable G550 Workhorse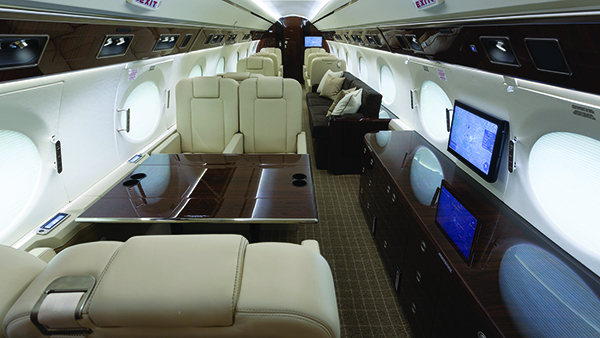 LINCOLN, NEB — Duncan Aviation recently refurbished a 12-year-old Gulfstream G550 for a customer who appreciates the dependability of the aircraft and wanted it to remain an integral part of his fleet. By combining the work for an entirely new interior, a new exterior paint scheme and an upgrade of the Cabin Management System (CMS) with scheduled maintenance for the aircraft, Duncan Aviation minimized downtime and helped the customer maintain his flight schedule.
"Because of the reliability of Gulfstream aircraft, they continue to be dependable business tools regardless of age," says Completions/Modifications Sales Manager Nate Klenke. "This serial number was a top performer in our client's fleet, so we gave it a face lift and kept it flying."
During the project's planning, the client asked that the new interior design be consistent with the rest of the company's fleet. Working with a conservative budget, Duncan Aviation Lead Designer Rachael Weverka incorporated stylized design elements using the existing panels and structure to develop a cabin environment that met the customer's expectations.
After nearly two years of planning and preparing, our client brought the G550 to Lincoln, Nebraska, and Duncan Aviation delivered the completed aircraft on budget in less than three months. A representative of the customer was on-site while the aircraft was in Lincoln and attended daily team meetings, helped make day-to-day decisions, and had access to every Duncan Aviation team member who touched the aircraft.
"We like to partner with our clients on these complex projects and be transparent throughout the entire process," says Nate, "This is an example of how Duncan Aviation supports operators through the entire life of the aircraft. Rene Cardona, one of Duncan Aviation's Aircraft Sales Representatives, helped the customer buy this aircraft 12 years ago, and now we have helped extend its usefulness in an active fight department."
About Duncan Aviation Aircraft Sales and Acquisitions
Founded in 1956 as a business aircraft sales organization, Duncan Aviation has been locating, buying and selling business aircraft for customers worldwide for nearly 60 years. Operating in all kinds of market conditions, Duncan Aviation's aircraft sales consultants and market analyst have the experience of more than 3,000 aircraft transactions to help them provide customers with the best acquisition and sales options to maximize their clients' aircraft investments. They are backed by the technical knowledge and expertise of Duncan Aviation's 2,100 team members, whose resources help the aircraft sales team make connections, value aircraft, determine future aircraft worth and truly understand the business aviation market.
About Duncan Aviation
Duncan Aviation is an aircraft service provider supporting the aviation needs of business aircraft operators, government agencies, and other aircraft service providers. Services include major and minor airframe inspections, engine maintenance, major retrofits for cabin and cockpit avionics systems, full paint and interior services, engineering and certification services, fabrication and manufacturing services, and preowned aircraft sales and acquisitions. Duncan Aviation also has international aircraft components solutions experts available 24/7/365 at +1 402.475.4125 who can handle any aircraft system problem with immediate exchanges, rotables, loaners or avionics/instrument/accessory repairs and overhauls. Complete service facilities are located in Battle Creek, Michigan; Lincoln, Nebraska; and Provo, Utah. We also have dozens of other facilities strategically located throughout the United States to provide customers with scheduled regional support and the quickest response possible to avionics, engine and airframe Aircraft On Ground (AOG) situations.
For more information about any of Duncan Aviation's services, call +1 402.475.2611 or visit www.DuncanAviation.aero