Duncan Aviation's Satellite Facilities Add Tool Calibration Capabilities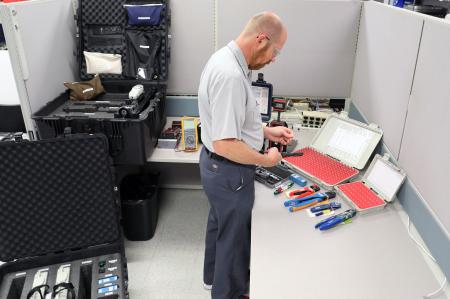 LINCOLN, NEB — Duncan Aviation is pleased to announce that three of its Satellite facilities are now offering tool calibration services for torque wrenches, multimeters, crimpers and other tools used in aviation maintenance. The equipment that provides the capabilities will rotate between Satellite shops several times a year, and as more technicians throughout the Duncan Aviation Satellite network are trained, more Satellite facilities will offer the tool-calibration service.
In July, avionics techs from Duncan Aviation Satellite facilities in St. Louis, Missouri, Scottsdale, Arizona, and Oxford, Connecticut, were trained and began offering tool calibration services for our customers.
"In response to customer's requests, we've been expanding services at many of our Satellite Shops beyond avionics line and install," says Manager of Satellite Operations Matt Nelson. "For instance, 19 of our Satellite facilities now include main ship and emergency power battery capabilities, and we're now adding tool calibration services to most of the Satellites."
The Duncan Aviation Satellites (DuncanAviation.aero/locations/#satellites) are located at some of the busiest business aviation airports around the country. The facilities almost always have ramp access and are a short distance from customer hangars.
"The service is available to anyone in the area who needs an annual calibration on any of the tooling we maintain," said Nelson. "We tried to focus on the tools most commonly found in the maintenance technician's toolbox."
Visit the Duncan Aviation website (https://duncanaviation.aero/locations/#satellites) for more information about the services and locations offered at the company's 28 Satellite facilities and workaways.
About Duncan Aviation
Duncan Aviation is an aircraft service provider supporting the aviation needs of business aircraft operators, government agencies, and other aircraft service providers. Services include major and minor airframe inspections, engine maintenance, major retrofits for cabin and cockpit avionics systems, full paint and interior services, engineering and certification services, fabrication and manufacturing services, and preowned aircraft sales and acquisitions. Duncan Aviation also has international aircraft components solutions experts available 24/7/365 at +1 402.475.4125 who can handle any aircraft system problem with immediate exchanges, rotables, loaners or avionics/instrument/accessory repairs and overhauls. Complete service facilities are located in Battle Creek, Michigan; Lincoln, Nebraska; and Provo, Utah. We also have dozens of other facilities strategically located throughout the United States to provide customers with scheduled regional support and the quickest response possible to avionics, engine and airframe Aircraft On Ground (AOG) situations.
For more information about any of Duncan Aviation's services, call +1 402.475.2611 or visit https://www.DuncanAviation.aero/services