Duncan Aviation Teams With Honeywell Aerospace, Turbojet Engineering & Beck's Hybrid On STC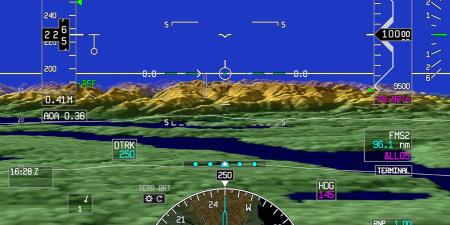 LINCOLN, NEB. — Duncan Aviation is pleased to announce that its Engineering/Certification and Avionics Installation teams in Battle Creek, Michigan, recently worked with Honeywell Aerospace, Turbojet Engineering, and Beck's Hybrid to develop a Supplemental Type Certificate (STC) to add Synthetic Vision System (SVS) to a Honeywell flight deck on a Learjet 45 series aircraft. The Honeywell flight deck had been previously installed in the customer's aircraft, and the cooperative effort involved upgrading the system and installing the SVS component.
Duncan Aviation has worked on this Learjet 45 in the past, installing Airshow 500, refurbishing parts of the interior, fully painting the exterior, and installing a Gogo AVANCE L3 for cabin connectivity.
The customer explained in detail exactly why they wanted this upgrade on their aircraft.
"Our 2008 Learjet 45XR is a workhorse, and it's very dependable. We decided it was time for an upgrade and chose the Honeywell Primus Elite for several reasons. It resolved the obsolescence issues with the old DU870s, and there were cost savings with the DU exchange program and reduced Honeywell Avionics Protection Plan (HAPP) cost," says Director of Maintenance Phil Ward of Beck's Hybrid. "Most importantly, the upgrade increased situational awareness for the pilot with the addition of charts, integrated maps, XM Weather, and Synthetic Vision System. We also believe this upgrade keeps the Learjet 45XR value higher when compared to other aircraft without the upgrade."
For more information about the SVS component or anything related to avionics, contact one of Duncan Aviation's experience avionics technicians (https://duncanaviation.aero/services/avionics-installation/contacts).
About Duncan Aviation
Duncan Aviation is an aircraft service provider supporting the aviation needs of business aircraft operators, government agencies, and other aircraft service providers. Services include major and minor airframe inspections, engine maintenance, major retrofits for cabin and cockpit avionics systems, full paint and interior services, engineering and certification services, fabrication and manufacturing services, and preowned aircraft sales and acquisitions. Duncan Aviation also has international aircraft components solutions experts available 24/7/365 at +1 402.475.4125 who can handle any aircraft system problem with immediate exchanges, rotables, loaners or avionics/instrument/accessory repairs and overhauls. Complete service facilities are located in Battle Creek, Michigan; Lincoln, Nebraska; and Provo, Utah. We also have dozens of other facilities strategically located throughout the United States to provide customers with scheduled regional support and the quickest response possible to avionics, engine and airframe Aircraft On Ground (AOG) situations.
For more information about any of Duncan Aviation's services, call +1 402.475.2611 or visit www.DuncanAviation.aero