Duncan Aviation Values Quality & Continuous Improvement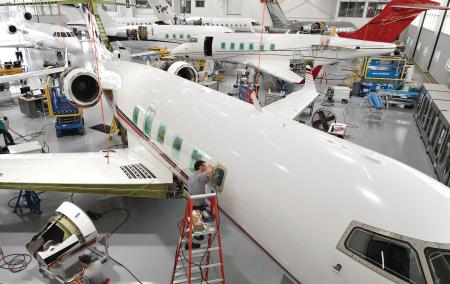 LINCOLN, NEB. — Duncan Aviation is pleased to announce it has added two members to its Continuous Improvement (CI) team: Nathan Hansen joined the team at the company's facility in Provo, Utah, and Justin Morgan joined the team at the facility in Battle Creek, Michigan. Innovation and Continuous Improvement Manager Erin Hart has been soliciting ideas to help eliminate waste, increase efficiency, maintain safety, and reduce costs at the Duncan Aviation facility in Lincoln, Nebraska, since October 2015.
"At Duncan Aviation, we're proud of our position as an industry leader, and we work hard to maintain that. We never take for granted that we're doing things as efficiently as possible and look for ways to improve how we do things," says Hart. "The whole idea behind CI at Duncan Aviation is to make meaningful changes that will have a positive effect on every aspect of our customers' experiences."
CI is an integrated philosophy that helps managers harness the creative ideas of the team members who are doing the work to help identify areas in which quality, products, and services can be improved.
"We're pleased to welcome Nate to the team because he brings a wealth of knowledge and experience to his position as Innovation and Continuous Improvement Manager in Provo," says Hart.
After serving in the United States Air Force, where he was a mechanic working on F-16s, he took classes at Embry-Riddle Aeronautical University and graduated with a Bachelor's Degree in Logistics and Supply Chain Management. He worked a number of contract positions at Hill Air Force Base in Utah, and, while working for Lockheed Martin, Hansen spent a year helping train the Iraqi Air Force at Balad Air Force Base in Iraq.
While working for Textron, Hansen devised a process that both increased paint efficiency for landing gear parts and also proved a more environmentally friendly method than the previous process. In 2020, Hansen graduated with his MBA from Park University and took a position with ADDX Corporation, where he worked primarily on modernizing communications systems in A-10 aircraft. He also developed a new corporate-wide quality management system based on ISO9001 and AS9100 Quality Management Systems.
"Justin, too, brings many years of relevant experience and knowledge to the Duncan Aviation facility in Battle Creek, Michigan, and we feel fortunate to welcome him to the Continuous Improvement team," says Hart.
Having graduated from Western Michigan University with a Bachelor's Degree in Electrical Engineering, Morgan joined the team at Stryker, a medical device manufacturer, as a Quality Engineer.
There, he delved into the concepts of LEAN management, where he learned all about Continuous Improvement.
"The philosophy really appeals to me because that's the way my brain is wired—to be efficient, to eliminate waste, and to find the best and fastest way to do something," says Morgan.
Hansen joined Duncan Aviation in late July 2022. He and his wife Darlene have 4 children and enjoy outdoor activities of all kinds.
Morgan has retained a love of World War II-era fighter planes since childhood, and he and his wife Veronica enjoy getting out and riding their bikes on the many trails Michigan has to offer. He also loves playing hockey and finds it one of the best ways there is to disguise a cardio workout.
About Duncan Aviation
Duncan Aviation is an aircraft service provider supporting the aviation needs of business aircraft operators, government agencies, and other aircraft service providers. Services include major and minor airframe inspections, engine maintenance, major retrofits for cabin and cockpit avionics systems, full paint and interior services, engineering and certification services, fabrication and manufacturing services, and preowned aircraft sales and acquisitions. Duncan Aviation also has international aircraft components solutions experts available 24/7/365 at +1 402.475.4125 who can handle any aircraft system problem with immediate exchanges, rotables, loaners or avionics/instrument/accessory repairs and overhauls. Complete service facilities are located in Battle Creek, Michigan; Lincoln, Nebraska; and Provo, Utah. We also have dozens of other facilities strategically located throughout the United States to provide customers with scheduled regional support and the quickest response possible to avionics, engine and airframe Aircraft On Ground (AOG) situations.
For more information about any of Duncan Aviation's services, call +1 402.475.2611 or visit https://www.DuncanAviation.aero/services