Duncan Aviation Welcomes Glyn Tookey As EMEA Regional Manager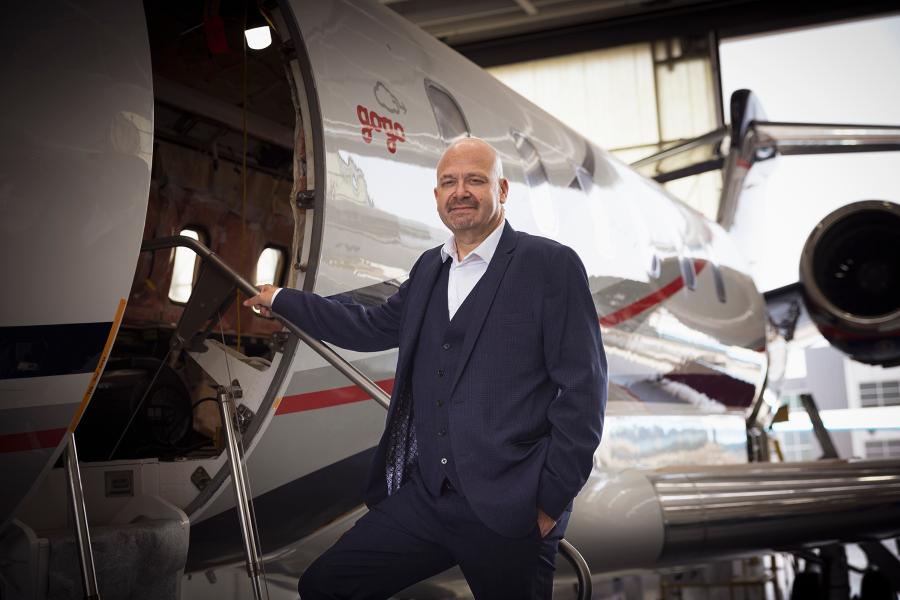 LINCOLN, NEB — Duncan Aviation is pleased to announce that Glyn Tookey has joined its Regional Manager team and will work to grow the company's presence in the Europe/Middle East/Africa (EMEA) regions. Having started with the company in September, Tookey is eager to speak to operators about the scope and breadth of work they can entrust with Duncan Aviation.
Tookey began his aviation career as a project manager for a facility in the UK that maintained military helicopters. After 17 years there, he worked for the next several years as an independent contractor, went on to work as a helicopter consultant in Brazil, and then went back to Europe to work in various aircraft service sales positions.
During his years in the business aviation industry, Tookey had heard of Duncan Aviation but hadn't considered the company a competitor. That changed when he visited the facility at the invitation of Ryan Huss, Duncan Aviation's VP of Sales.
"I came over to the facility in Lincoln, Nebraska, and when I left, I was like 'Wow!' We don't have facilities like that in Europe. We don't have shops with so many capabilities under one roof," said Tookey. "I was surprised I'd never viewed Duncan Aviation as a competitor, but it was, and I'd been absolutely unaware of the company's capabilities and workmanship."
"We reached out to several of our close customers in the EMEA region to see who they felt did a nice job for them. Glyn's name kept coming up," said Huss. "I spoke to Glyn a few times before flying him over to our facility in Lincoln. We knew right away that he was the right fit to support Duncan Aviation's customers in the EMEA region. We are extremely happy to have Glyn join our team and look forward to him working with our European team. We're confident that with his knowledge and experience, he'll successfully manage and grow our relationships in EMEA."
As someone who spent his entire career in the aviation industry, at least a dozen in business aviation, Tookey is now prepared to spread the word about how impressive Duncan Aviation's capabilities really are.
"Everyone at Duncan Aviation I've met is knowledgeable, friendly, and welcoming," says Tookey. "The whole concept of the Duncan Aviation way felt completely like how I'd run a company of my own. I wouldn't deviate from any of it. Nowhere I've worked has had the one-stop-shop capabilities of Duncan Aviation; it's just so unique. I'm happy and proud to be working here and am anxious to get the word out to potential clients about the strength of the company, what it can do, and how we go about it with honesty and integrity."
Duncan Aviation's European team includes two Aircraft Sales & Acquisitions representatives, Tim Barber and Leah Alexander.
About Duncan Aviation
Duncan Aviation is an aircraft service provider supporting the aviation needs of business aircraft operators, government agencies, and other aircraft service providers. Services include major and minor airframe inspections, engine maintenance, major retrofits for cabin and cockpit avionics systems, full paint and interior services, engineering and certification services, fabrication and manufacturing services, and preowned aircraft sales and acquisitions. Duncan Aviation also has international aircraft components solutions experts available 24/7/365 at +1 402.475.4125 who can handle any aircraft system problem with immediate exchanges, rotables, loaners or avionics/instrument/accessory repairs and overhauls. Complete service facilities are located in Battle Creek, Michigan; Lincoln, Nebraska; and Provo, Utah. We also have dozens of other facilities strategically located throughout the United States to provide customers with scheduled regional support and the quickest response possible to avionics, engine and airframe Aircraft On Ground (AOG) situations.
For more information about any of Duncan Aviation's services, call +1 402.475.2611 or visit https://www.DuncanAviation.aero/services