Duncan Aviation Welcomes Recruiter David Sturdy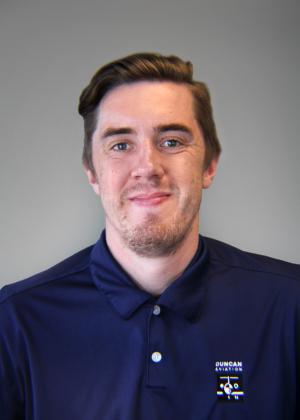 LINCOLN, NEB. — Duncan Aviation is pleased to announce that David Sturdy has joined the company's recruitment team and will take on the responsibility for generating interest in the industry and the company, as he works from the Battle Creek, Michigan, facility.
Sturdy joins the Duncan Aviation team as the business aviation industry attempts to meet the challenges of finding qualified technicians as experienced technicians reach retirement age. As with many industries, the aviation industry has realized that its long-time technicians are leaving big shoes to fill, and younger people in the workforce aren't fully aware of the many career opportunities available in business aviation.
"We're very excited to have David join the team," says Human Resources Supervisor Jennifer Monroe. "He brings a wealth of knowledge and expertise that will continue to drive our recruiting efforts forward as we seek to add more top talent to the Duncan Aviation team."
As he prepares to meet the challenges facing the company and the industry, Sturdy feels that his seven years of experience as a recruiter and account manager at Aerotek in Kalamazoo, Michigan, give him the skills, patience, and persistence necessary to reach potential team members and help spread the word about the many aviation career opportunities at Duncan Aviation.
"When I worked as a recruiter, I focused for several years on finding qualified technicians, and when I worked as an account manager, I helped various companies in Southwestern Michigan with their Engineering needs, including Duncan Aviation," says Sturdy. "I worked with Michael Hill, enterprise director of engineering, to find talented, highly qualified engineers. I'm excited to do the same for the entire company now."
Sturdy feels his job is a bit easier because of Duncan Aviation's well-known brand, culture, and values.
"Duncan Aviation is well-known and respected throughout the industry," says Sturdy. "The company doesn't just pay lip service to its mission and goals statements. It not only believes in a well-trained workforce, but it provides the necessary education through technical classes and on-the-job training. It offers its team members career-advancement opportunities and generous benefits. The fact that Duncan Aviation always delivers a high-quality product makes my job recruiting that much easier, too."
Having worked as a recruiter for years, Sturdy is aware of which companies claim to espouse values, such as giving back to the community, and which actually follow through.
"Duncan Aviation gives back to the community and provides volunteer opportunities for team members and partnerships with various agencies and schools throughout the year," says Sturdy. "In addition to its many years of partnering with the United Way, it partners with elementary schools and high schools in the area to offer internships to students with special needs through programs like Project SEARCH here in Battle Creek, and the Independence Academy in Lincoln, Nebraska. Several times each year, volunteers at all three main locations help pick up trash along area highways, and they're joined by company managers as they work to restore parks, gardens, and playgrounds."
When he's not busy helping attract talented, qualified team members to Duncan Aviation, Sturdy and his wife Kate spend as much time outdoors with their three children (Analynn, 8; Jackson, 6; and Levi, 19 months) as possible at soccer games, spending time with their families, and at South Haven on the shores of Lake Michigan, which is less than an hour away.
About Duncan Aviation
Duncan Aviation is an aircraft service provider supporting the aviation needs of business aircraft operators, government agencies, and other aircraft service providers. Services include major and minor airframe inspections, engine maintenance, major retrofits for cabin and cockpit avionics systems, full paint and interior services, engineering and certification services, fabrication and manufacturing services, and preowned aircraft sales and acquisitions. Duncan Aviation also has international aircraft components solutions experts available 24/7/365 at +1 402.475.4125 who can handle any aircraft system problem with immediate exchanges, rotables, loaners or avionics/instrument/accessory repairs and overhauls. Complete service facilities are located in Battle Creek, Michigan; Lincoln, Nebraska; and Provo, Utah. We also have dozens of other facilities strategically located throughout the United States to provide customers with scheduled regional support and the quickest response possible to avionics, engine and airframe Aircraft On Ground (AOG) situations.
For more information about any of Duncan Aviation's services, call +1 402.475.2611 or visit https://www.DuncanAviation.aero/services