Jonathan Heiss Joins Duncan Aviation's Falcon Service Sales Team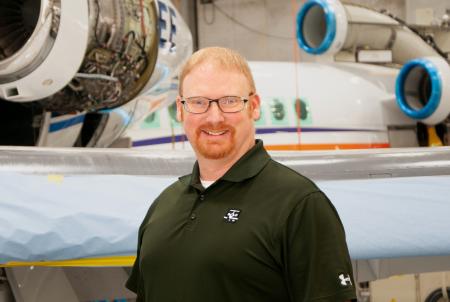 LINCOLN, NEB. — Duncan Aviation is pleased to announce Jonathan Heiss as the company's newest Airframe Service Sales Rep in Battle Creek, Michigan. In his new position, Heiss assists Falcon operators in planning for large airframe maintenance events, providing detailed technical quotes, answering service and capability questions, and scheduling maintenance visits.
Heiss started his aviation career with Duncan Aviation as an Intern in 2006, joining full-time as an Airframe Technician after graduating from Western Michigan University's College of Aviation. He worked on every alternate shift available, gathering valuable knowledge and experience on the Falcon airframe. He advanced to a Lead Mechanic and a Quality Assurance RTS II Inspector. Most recently, Heiss has been working directly with Duncan Aviation customers for the last four years as a Project Manager.
"We are excited for Jonathan to join the airframe service sales team. He has a great amount of technical experience with the Falcon airframe, and his excellent organizational and communication skills and strong customer relationships serve him well," said Alan Monk, Manager-Service Sales in Battle Creek, MI. "All the experience he brings to the sales team gives him instant credibility with our Falcon customers and sets him up for success in this new role."
Heiss plans to continue to build on the relationships he has developed as an airframe lead and Project Manager. "Many operators are still my customers. I'll work with them in a different capacity," says Heiss. "My maintenance and customer service experience have given me a deep understanding of the work performed on the floor and the needs of our customers. I'm in a good position to answer their questions and provide accurate quotes."
Heiss can be reached by phone at +1 269.565.3567 or via email at: Jonathan.Heiss@DuncanAviation.com.
About Duncan Aviation
Duncan Aviation is an aircraft service provider supporting the aviation needs of business aircraft operators, government agencies, and other aircraft service providers. Services include major and minor airframe inspections, engine maintenance, major retrofits for cabin and cockpit avionics systems, full paint and interior services, engineering and certification services, fabrication and manufacturing services, and preowned aircraft sales and acquisitions. Duncan Aviation also has international aircraft components solutions experts available 24/7/365 at +1 402.475.4125 who can handle any aircraft system problem with immediate exchanges, rotables, loaners or avionics/instrument/accessory repairs and overhauls. Complete service facilities are located in Battle Creek, Michigan; Lincoln, Nebraska; and Provo, Utah. We also have dozens of other facilities strategically located throughout the United States to provide customers with scheduled regional support and the quickest response possible to avionics, engine and airframe Aircraft On Ground (AOG) situations.
For more information about any of Duncan Aviation's services, call +1 402.475.2611 or visit https://www.DuncanAviation.aero/services