Pratt & Whitney Canada Appoints Duncan Aviation as Designated Overhaul Facility for Select PW300 and PW500 Business Aviation Engines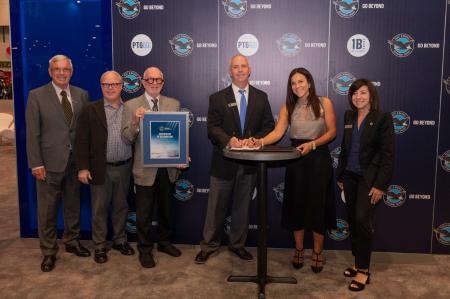 LAS VEGAS, Oct. 18, 2023 – Pratt & Whitney Canada (P&WC) announced today that Duncan Aviation's facility in Lincoln, Nebraska, has been appointed a Designated Overhaul Facility for the maintenance, repair and overhaul (MRO) of PW300 and PW500 turbofan engines that will become operational over the next two years. Pratt & Whitney is an RTX (NYSE: RTX) business.
"As our fleet of engines increases, we are taking proactive steps to ensure that we have fully operational MRO capabilities in place when and where our customers need them," said Irene Makris, vice president for Customer Service at Pratt & Whitney Canada. "Duncan Aviation has extensive experience in the line maintenance and hot section inspection of both our PW300 and PW500 engines. Stepping into the official MRO role for these two engine families is the logical extension of our long-standing relationship with their team."
"Our company was founded in 1956 and over the years we have expanded our business to offer a full portfolio of services to the business aviation community," said Jeff Lake, president, Duncan Aviation. "Our Lincoln team is delighted to provide MRO services to Pratt & Whitney Canada engine customers flying PW300 and PW500 engine models."
Pratt & Whitney Canada has an extensive global service network with a comprehensive MRO portfolio for Pratt & Whitney Canada engines. The breadth and depth of the company's expertise and its flexible maintenance programs and solutions give P&WC capabilities and scale to serve customers around the clock virtually anywhere in the world. The P&WC global service network consists of company-owned maintenance and MRO shops, Designated Maintenance Facilities which provide line maintenance and mobile repair team services, Designated Overhaul Facilities which provide MRO services, and Approved Repair Facilities which maintain auxiliary power units. These facilities number more than 50 and are strategically located in 25 countries. Full details and an interactive map of P&WC's global service network are available on the service network map.
Since the company's founding in 1928, Pratt & Whitney Canada engines have flown 1 billion hours. Read more about Pratt & Whitney's history of innovation here.
About Pratt & Whitney
Pratt & Whitney is a world leader in the design, manufacture and service of aircraft engines and auxiliary power units. To learn more, visit www.prattwhitney.com. To receive press releases and other news directly, please sign up here.
About RTX
RTX is the world's largest aerospace and defense company. Our global team of 180,000 employees pushes the limits of known science and redefines how we connect and protect our world. We are advancing aviation, building smarter defense systems and creating innovations to take us deeper into space. Effective July 1, the company will complete its realignment into three customer-focused business units — Collins Aerospace, Raytheon and Pratt & Whitney. The company, with 2022 sales of $67 billion, is headquartered in Arlington, Virginia.
About Duncan Aviation
Duncan Aviation is an aircraft service provider supporting the aviation needs of business aircraft operators, government agencies, and other aircraft service providers. Services include major and minor airframe inspections, engine maintenance, major retrofits for cabin and cockpit avionics systems, full paint and interior services, engineering and certification services, fabrication and manufacturing services, and preowned aircraft sales and acquisitions. Duncan Aviation also has international aircraft components solutions experts available 24/7/365 at +1 402.475.4125 who can handle any aircraft system problem with immediate exchanges, rotables, loaners or avionics/instrument/accessory repairs and overhauls. Complete service facilities are located in Battle Creek, Michigan; Lincoln, Nebraska; and Provo, Utah. We also have dozens of other facilities strategically located throughout the United States to provide customers with scheduled regional support and the quickest response possible to avionics, engine and airframe Aircraft On Ground (AOG) situations.
For more information about any of Duncan Aviation's services, call +1 402.475.2611 or visit https://www.DuncanAviation.aero/services