Preowned Aircraft Sales Market Conditions
June 2023
The current preowned aircraft market is extremely different from the first months of 2022. Nearly every market is down in pricing, as we've experienced a decline in value and demand. At the start of 2022, we saw just under 750 active on-market business jet listings, which had fallen to very low levels due to the pandemic and the consequent dramatic increase in the number of people flying private. That number was well below the pre-pandemic level of around 2,500, and as a result, prices were at an all-time high. We are now seeing the market starting to equalize as more aircraft are listed, and prices are beginning to drop. This is great when buying but not so great when selling.
People are concerned about financial meltdowns, bank failures, and interest rate hikes, so some owners are selling their aircraft and reverting to charter. However, there continues to be a steady number of owners seeking to upgrade. I recently listed a 25-year-old Gulfstream for sale, the 5th on the market. Just a few months later, there were 20 of them available, putting buyers in a much stronger position.
However, the market is different depending on where you look. The Embraer Legacy 600 has seen available aircraft more than double this year, whereas the Legacy 650 inventory has remained constant. Other aircraft, such as the Falcon 8X and G650ER, have seen availability reduce, but most aircraft have seen increases of varying significance. The Challenger 604 rose from 27 to 31, Phenom 300 from 16 to 23, and Citation CJ4 from 6 to 13.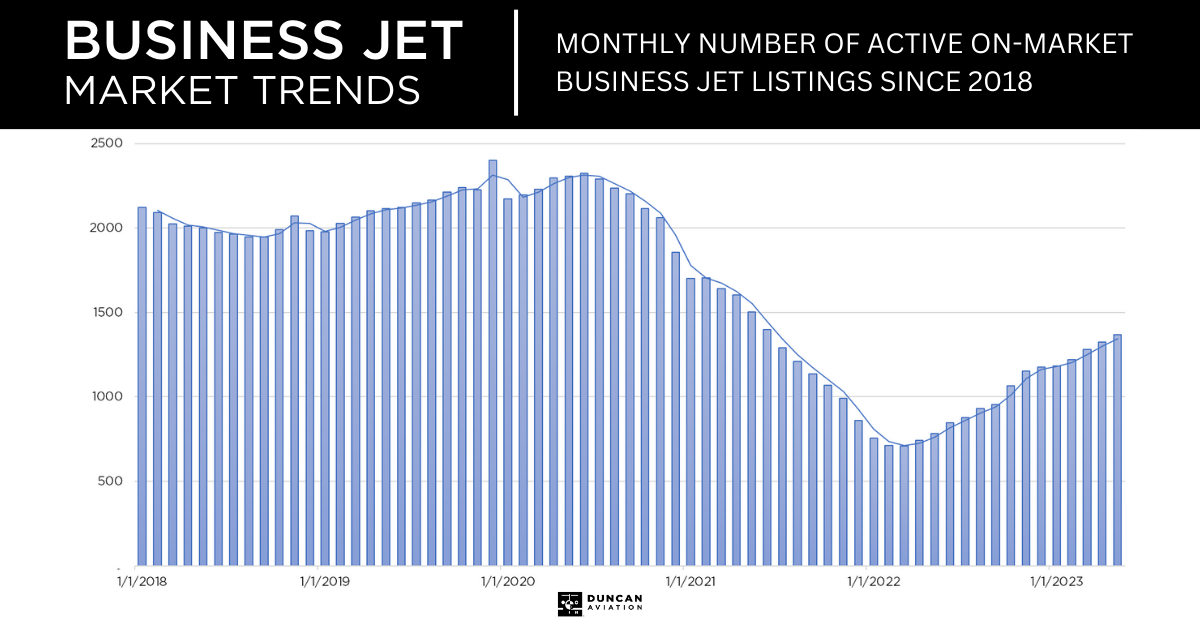 While it appears that many people are talking the market down, it's not nearly as bad as painted by some, as the number of aircraft for sale is well below where it was three years ago. Currently, 6.04% of the inventory is for sale, compared to around 10%, which is considered normal or balanced. [see graph]
Why is it so low? The available inventory for sale fell rapidly last year, as there was a massive demand for preowned aircraft for charter operators as they were experiencing a record number of flight hours. Aircraft were snapped up to support this burgeoning market while many private buyers also sought to secure their own aircraft.
The market is moving, but moving in sectors. Some aircraft are showing stability, and some are not. It is supply and demand, but we are seeing older and larger models taking the biggest hit in terms of pricing. Older aircraft are not in demand like they were during the pandemic, and large aircraft like the Falcon 7X and Global 6000 have seen reductions in the value of up to 15% over the last quarter. Over the same period, aircraft like the Citation XLS have seen something closer to stability, while the Phenom 300 has experienced value reductions of between 5% and 10%.
It's important to note that the value guides are an indication of the market at a point in time, and any subsequent sales and market movements are not reflected until the next quarter. They are a look back over the previous three months. If you have questions or are interested in buying or selling a business jet, please call me or any of the aircraft sales team.