«Spring 2022
The Changing Landscape Of Aircraft Sales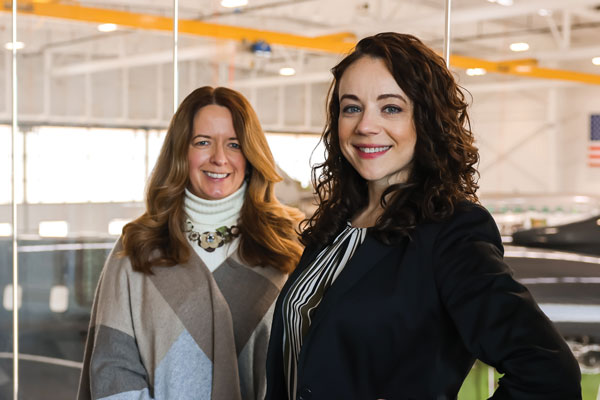 The newest members of Duncan Aviation's Aircraft Sales & Acquisitions team, Ann Pollard (left) and Leah Alexander (right), both come from aviation families and are excited to see how much the industry landscape has changed in recent years.
When I decided to pursue an aviation career in the late 1980s, there were not a lot of women in the industry," says Ann. "Women are now engaged in key roles throughout all sectors, including in our workforce at Duncan Aviation. Our client base also includes top companies with women in leadership and ownership roles. We know it's important to offer different viewpoints and perspectives that reflect the communities in which we live and the worldwide community we serve."
Leah recently passed her IADA (International Aircraft Dealers Association) Certified Broker exam and is officially an IADA Certified Broker. She is excited to share her extensive industry experience and perspective with clients.
"It's exciting to see women contributing at all levels and in all sectors of aerospace," says Leah. "I'm excited to be part of our experienced Sales & Acquisitions team and of Duncan Aviation's diverse 2,500+ strong workforce."
Both Ann and Leah agree that it is an unusual time to be representing business aircraft buyers and sellers.
The Pre-Owned Market: Everything is Popular
Global bank Barclays released a report stating that the pre-owned business jet market is at about 4% of the total fleet in terms of availability, compared to a long-run average of about 12% of the fleet. Just what does this mean?
"It means that everything is popular," says Leah. "Certain models are in incredibly high demand across all different cabin sizes, especially within the light- and mid-size jet market, such as the Citation XLS or Phenom 300. Individuals who previously had a jet card or fractional share are looking to buy their own aircraft. Couple that with charter/membership/management companies feverishly working to increase fleet sizes to meet record demands and record backlogs for new aircraft, there just isn't much out there."
A number of new entrants to the market are seeking safer and more reliable ways to travel, driven in part by significant cuts to commercial airline schedules and routes, uncertainties due to flight crew shortages, or logistical challenges due to COVID-19.
"Private aviation is a very safe and efficient way to travel, and these longstanding benefits have been magnified during the pandemic," says Ann. "We are seeing record demand through all segments and across all of our business lines."
Owners and operators are also looking to achieve fleet commonality and to maximize operating efficiencies. When you add the number of first-time jet owners, it becomes a search for the "unicorn" of aircraft.
"Duncan Aviation is uniquely positioned in the marketplace to help clients find that unicorn," says Ann. "We have more than 2,500 team members across the globe who provide us with unparalleled insights, market intelligence, and technical expertise not available to the traditional dealer."
In 2021, Duncan Aviation had 52,000 active customer relationships around the globe and, at any given time, had hundreds of aircraft in-house at our 3 primary facilities and 27 Satellites.
Legacy Aircraft, Reborn
Prior to the pandemic, there were discussions about the inevitable retirement of a significant number of legacy aircraft. As upgrades and improvements started to outweigh the value of the aircraft, the assets were simply not worth investing in anymore.
"Many of the aircraft the industry anticipated would be retired have been given a new lease on life," says Ann. "Most of the legacy airframes have thousands of additional service hours remaining, and the recent increase in hull values and revenue-generating potential has changed the calculus for analyzing investments in paint, interior, avionics, and engines."
Leah highlighted the importance of keeping an aircraft on an engine program and the value of a well-maintained aircraft.
"As long as the aircraft is supported and maintained appropriately, it will continue to retain value," says Leah. "Some legacy owners took the engines off an engine program or did not keep up with mandates, and those aircraft do not sell at close to the premium that high-pedigree aircraft are realizing in today's market."
Setting Client Expectations
In a historically tight market, it's important to accurately set client expectations, whether we are assisting a client to acquire or sell an aircraft.
"At the start of a project, it's our goal to help our clients get organized so they are ready to act decisively," says Ann. "Clients need to have a strategy in place and an organized, effective team ready to execute that strategy."
Leah reiterated the importance of working with a company that has wide industry bandwidth and an experienced sales and acquisitions team to oversee a successful transaction.
Do You Plan on Buying or Selling?
Buyers and sellers need to be prepared, smart, and ready to engage at a moment's notice to pursue an opportunity. Working with a company that is committed to operating at an ethical level is also paramount.
"Duncan Aviation's commitment to its core values and ethical standards form the cornerstones of thousands of client and industry relationships," says Ann. "Being part of an organization with a 66-year legacy of buying, selling, and supporting aircraft opens doors to hundreds of off-market opportunities, as people prefer to do business with people they trust."
Duncan Aviation is also a founding member of IADA.
"Duncan Aviation's 2,500+ team members represent an enormous amount of technical and industry expertise," says Leah. "When we list an aircraft for sale, we know what buyers' representatives will be looking for and are able to leverage our experience to prepare detailed marketing and technical materials that enable buyers to act quickly. Aircraft will be presented in a way that the buyer's team has a high level of confidence, positioning our clients to get the highest offers possible."
Although the market is challenging, it's important not to get discouraged. The right aircraft might not be available today, but an opportunity may emerge tomorrow.
"The transaction process requires extreme attention to detail," says Leah. "Whether you are buying or selling, it's especially important to have a qualified and dedicated team get you to the finish line."
Meet the team, listen to podcasts, and more: